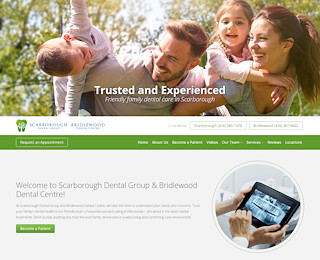 At Scarborough Dental Group, we can enhance the look of your smile with several cosmetic dentistry* options in Scarborough. Dr. Riken Patel and his team will work closely with you to ensure you get the results you desire. Your satisfaction and comfort during treatment matter most to us – so you can rest assured we'll ask you all the necessary question and consider your feedback every step of the way.
Transform Your Smile With Cosmetic Dentistry In Scarborough
We've helped many patients achieve the smile of their dreams at our practice. You can be next. Here are the main cosmetic options we can help you with …
Teeth Whitening – Say goodbye to dull teeth. With our safe, supervised whitening options, your smile will glow – up to eight shades whiter!
Porcelain Veneers – A veneer is an extremely thin – yet strong – tooth-colored composite resin or porcelain shell that covers the front surface of your tooth. They can be placed in just one visit and are very effective for brightening stained teeth, hiding imperfections, and creating uniformity in your smile, among other benefits.
Bonding – With this cosmetic dentistry option in Scarborough, we can improve the appearance of your smile with a durable tooth-colored resin. We can even make teeth look longer if they are shorter than you desire.
Invisalign® – If you are experiencing crooked teeth, Invisalign may the best option to gradually line them up to where they should be. Many patients prefer this orthodontic treatment to traditional metal braces because they are removable and virtually undetectable. Millions of people around the globe have chosen Invisalign!
… And we even offer options for a complete smile makeover if you require several extensive cosmetic care.
Interested in learning more about how cosmetic dentistry in can change your life? Give us a call – we'd love to hear from you!
* In Canada, cosmetic dentist in Scarborough and cosmetic dentistry in Scarborough are not designated dental specialties. All services are provided by a general dentist.
Cosmetic Dentistry Scarborough
Scarborough Dental Group
4162851076
1703 Victoria Park Ave, Scarborough, ON M1R 1R9
View Larger Map