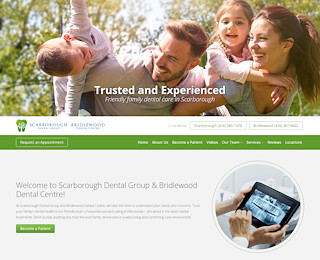 Scarborough Dental Group cares about your entire family's dental care needs. We are committed to maintaining your family's beautiful smiles by providing access to quality services, such as checkups, cleanings, fluoride treatments, and restorative and cosmetic dental treatments.
Same Day and Single Day Treatments
With certain procedures, time is of the essence when it comes to preventing more extensive treatment later on. If you're on a waiting list and need immediate dental care, call our staff at Scarborough Dental Group, and we'll make sure you see a dentist from our practice with no inconvenient wait time.
Anxiety-Free Dentistry and Painless Visits
Have you ever experienced genuine painless dentistry? If not, you may be amazed at how dental care has changed over the past decade. New techniques, treatments, and equipment mean pain-free dentistry in a relaxed, comfortable atmosphere when you choose us as your dentist in Scarborough. We also offer sedation for our patients who still feel anxious or are not convinced treatment won't hurt.
Services For Your Entire Family
From your family's youngest patients to adults and seniors, every member of your family will benefit from our wide range of pediatric, primary, cosmetic, restorative, preventive, and specialized dentistry. If your family sees more than one dentist in the Scarborough area to meet the many needs of your family, we'd like the opportunity to show you how we can eliminate the hassle of driving all over town for dental care. We are proud to offer all of the following:
New Digital Imaging
Panoramic X-Rays
Consultation Visits
Full Family Dentistry
Patient Education
Sealants & Fluoride Treatments
Dental Implants & Dentures
Silver & White Fillings
Dental Veneers & Bonding
Bridgework & Crowns
Sports Mouthguards & Nightguards
Root Canal Treatment
Oral Cancer Screening
Sedation Dentistry
Painless Wisdom Teeth Removal & Extractions
Invisalign® Clear, Removable Braces
Skilled Dentists Who Can Help Your Children
Our highly experienced staff works with younger patients who are fearful about sitting in the dentist chair. We understand visits to the dentist may not always go as planned, and we offer caring, compassionate treatment for young patients who squirm or get frightened when they hop in the chair. With a little help from our staff and parents, younger patients learn that visits to Scarborough Dental Group can be comfortable experiences. We'll teach your child the proper methods of brushing and flossing to help make their appointments positive experiences they'll look forward to in the future.
The Choice Is Clear
With so many reasons to choose us as your dentist in Scarborough, there's no reason not to call our staff to schedule a new patient appointment in the coming days. You'll find us warmly welcoming and professional in all areas. We're pleased to invite your family to visit our beautiful facility for a practice tour to meet our staff, become familiar with our office, and alleviate some of the anxiety of seeing a new dentist.
Dentist Scarborough
Scarborough Dental Group
4162851076
1703 Victoria Park Ave, Scarborough, ON M1R 1R9
View Larger Map