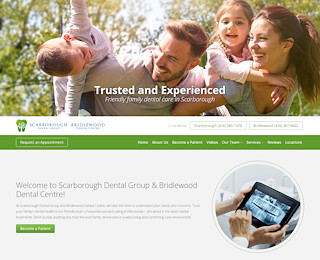 Are you looking for information on affordable dentures in Scarborough? Finding the right solution for replacing missing teeth might be right in front of your eyes. Scarborough Dental Group helps patients of all ages and from all walks of life regain lost confidence and achieve a more natural and youthful appearance.
Implants Or Dentures?
While implants continue to lead the way in new technology for replacing lost teeth, they're not the most accessible solution for all of our patients. When cost is a consideration, you'll find dentures are an excellent option to improve form and function. You might be a candidate for dentures if you answer "yes" to any of the following questions:
Do you have missing teeth that are negatively impacting your life?
Is cost a factor while researching dental prosthetics?
Do you miss smiling in social situations?
Does the appearance of your teeth keep you from laughing or smiling?
Are you worried that adjacent teeth may shift out of place?
The Popularity Of Dentures
Most patients we speak to with missing teeth are looking for a cost-effective way to restore natural function and improve the appearance of their smile. Today's dentures make it possible to enjoy your favourite foods, laugh out loud, and smile with all the confidence in the world. If your dentist wants you to pay for implants that you can't afford or continues to recommend implants after you've made it clear that you're interested in dentures, schedule a new patient visit with us to learn more about the advantages of dentures at Scarborough Dental Group.
We Are Sensitive To Patient Needs
Our staff will never try to push a product or service on you that you're not interested in or make recommendations that don't fit your budget. After an initial smile analysis, we'll let you know which dental prosthetics will meet your needs, and help you choose the one that reflects your objectives and makes sense to your finances. Patients who choose dentures experience many advantages.
Removable dentures may be more comfortable at night.
Dentures cost a fraction of what implants cost.
Innovative materials have significantly increased the lifespan of dentures in the past decade.
Implant-supported dentures offer the best of both worlds.
A Trusted Dental Service Provider
Scarborough Dental Group has earned a reputation throughout the community for our commitment to meeting the needs of each patient who walks through our doors – from pediatric patients to adults and seniors. We make time to talk with patients and listen carefully to understand their needs better. We believe that better communication leads to a higher level of satisfaction for patients of all ages.
If you'd like more information on dentures in Scarborough, give our office a call or fill out a new patient intake form on our website. We look forward to meeting you, getting to know you, and discussing a treatment plan for a more beautiful smile.
Dentures Scarborough
Scarborough Dental Group
4162851076
1703 Victoria Park Ave, Scarborough, ON M1R 1R9
View Larger Map