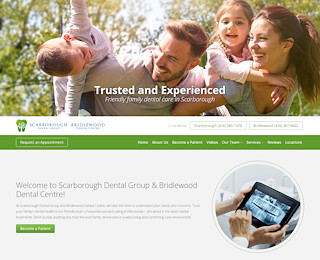 Trust Scarborough Dental Group for affordable Invisalign® in Scarborough. We are pleased to offer the community one of the most-preferred systems for straightening teeth without metal bands, brackets, or wires. Invisalign's clear, smooth plastic aligners are comfortable to wear and fit the lifestyle of adults and teenagers.
Why Invisalign?
The choice is clear – virtually invisible Invisalign is ideal for patients who have concerns about the negative social impact of conventional braces. For teens, Invisalign eliminates the peer pressure associated with metal 'railroad track' braces, while for adults, Invisalign's removable aligners make it easier to maintain confidence during social situations. Side-by-side comparisons of Invisalign with metal braces show that many patients opt for Invisalign's minimally-invasive system.
More To Smile About
Are you looking for a few more reasons to smile? To start, office visits for Invisalign consist of swapping out existing aligners for new ones, which takes only a few minutes. There's no adjusting, tightening wires, or fixing issues where uncomfortable brackets poke the skin. About every other week, you'll come in for quick in-and-out visits to trade out aligners and make sure teeth are moving as expected.
Invisalign Offers Many Advantages
For patients who only need slight repositioning of teeth, Invisalign is a perfect choice. Unlike traditional braces that require cement to adhere brackets to the teeth, Invisalign's clear aligners fit over your teeth and gently move them into position over time. With this straightening system, you're free to enjoy the lifestyle you live – with the following unique benefits:
Removable aligners are more popular with patients – take out Invisalign's aligners for brushing, flossing, band practice, sports activities, and any other social engagement, provided they stay in place for a minimum of 22 hours each day.
With no dietary restrictions, you're free to enjoy all the foods you love. Remove aligners while eating hard, crunchy, or sticky foods; brush, and floss as usual, and replace aligners.
Smile with more confidence. Unless you specifically tell other people, even your closest friends will probably not suspect you're wearing the Invisalign system.
With greater access to areas in between teeth, patients experience less tooth decay during treatment.
Invisalign addresses many issues, including gapped teeth, crooked teeth, and misaligned teeth.
Find Out More About Invisalign In Scarborough
Schedule a free consultation visit with our staff at Scarborough Dental Group to determine whether you're a candidate for treatment. Be sure to bring your list of questions and feel free to take notes during your visit. If you'd like additional information, we'll send you home with more materials to help you make the right decision about your smile.
If you opt for Invisalign treatment, you'll walk out of our office with a beautiful new smile you'll be proud to show off – and the average treatment duration is just 6-12 months. Explore the free resources on our website by clicking "Services" and selecting "Orthodontics" from the menu. You'll find Invisalign listed among the orthodontic services we provide.
Invisalign Scarborough
Scarborough Dental Group
4162851076
1703 Victoria Park Ave, Scarborough, ON M1R 1R9
View Larger Map