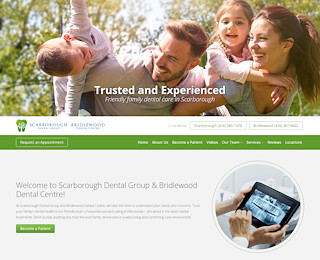 Scarborough dental implants specialists from Scarborough Dental Group can offer you the advantages of stable, permanent teeth that look and function just like your natural teeth. They can help you regain your beautiful smile, make it easier to chew foods, and protect bone and remaining natural teeth, to name a few benefits.
Implants Or Dentures?
Many of our patients considering implants tell us the cost remains the most significant factor when comparing the pros and cons of each prosthetic. We refer these patients to the top comment made by patients who have already gone through the procedure: "Implants are worth every penny." With dentures, you're paying for a temporary fix to the problem of one or more missing teeth, while with implants, you're investing in a life-changing procedure that offers lifetime advantages.
It's An Individual Choice
We highly recommend scheduling a consultation visit with our staff to discuss the benefits and drawbacks of each prosthetic. After providing a complete evaluation of your mouth, our team will offer professional advice and recommendations based on your goals. If dentures better fit your budget or you're not a suitable candidate for health reasons, we'll respect your decision and help you get fitted with beautiful new dentures to restore your smile.
Are You A Candidate?
If you're a good candidate for Scarborough dental implants, we'll offer additional information during your consultation, provide you with materials to take home and read over with your family, and let you know all the benefits implants will offer you. Our dental practice has the equipment to offer you in-house implant treatment without the need for a referral. In-house implants are our way of providing quality, comfortable dentistry that meets the requirements of our patients.
Mini Implants
We offer same-day implants called mini implants for patients who are eligible for treatment. If you opt for this treatment, you can walk out of our office the same morning or afternoon as your scheduled appointment with a beautiful new smile that is durable, functional, and made to last for decades. Mini implants offer the same, trusted benefits of conventional implants:
Restore chewing function with no limitations on what you're able to eat
Replace missing teeth with beautiful implants that look exactly like your natural teeth
No special maintenance required – brush and floss like usual and see us for routine checkups
Dollar-for-dollar, the best investment in your smile
Permanently fixed
No more 'fixing' teeth while eating
Protects bone health and density
Scarborough Dental Implants
Trust Scarborough Dental Group with your new smile; you'll find positive reviews and testimonials from real patients who want to share their experiences with you. Click the "Reviews" link on our website or explore the internet for unbiased five-star reviews from others in the Scarborough community who trust us with their families' beautiful smiles.
Scarborough Dental Implants
Scarborough Dental Group
4162851076
1703 Victoria Park Ave, Scarborough, ON M1R 1R9
View Larger Map